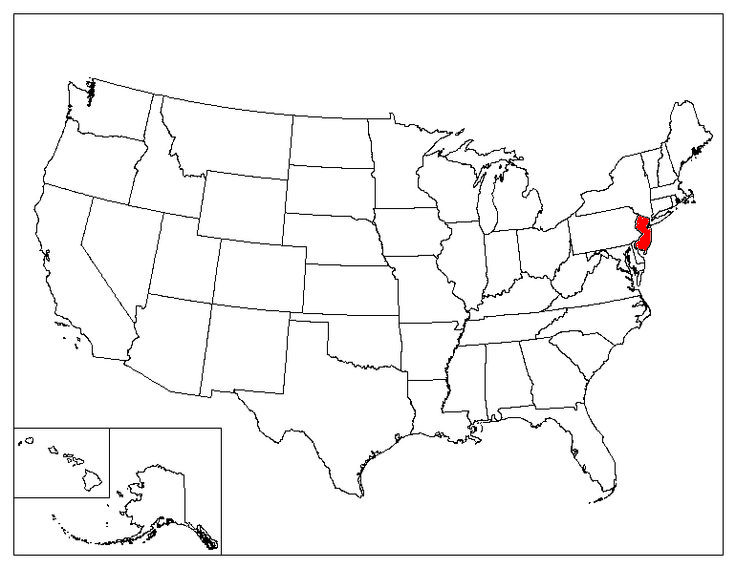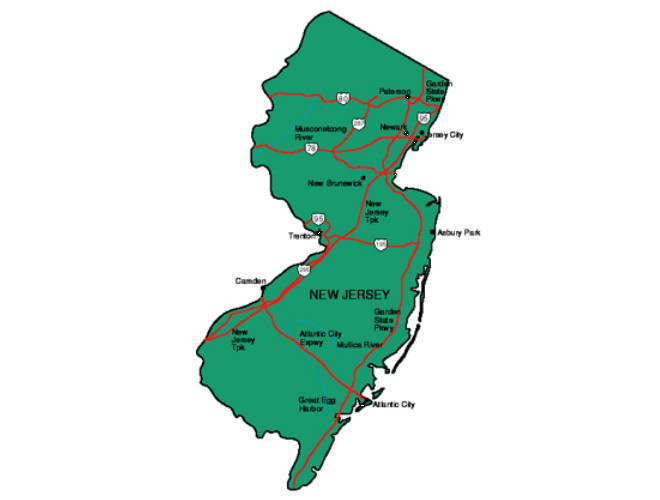 This page contains a wealth of information on the state of New Jersey. Please click on the type of the fact that you are interested in:
Geography & Demographics
State Abbreviation
NJ
State Capital
Trenton
State Size
Total (Land + Water): 8,721 sq miles; Land Only: 7,417 sq miles
Number of Counties
21
Time Zone
Eastern Time Zone
Bordering States
Delaware, New York, Pennsylvania
Highest Point
High Point, 1,803 feet
National Parks
None
State Population (2015)
8,958,013
State Population Density
1,207.8 people / square mile
Area Codes
201, 551, 609, 732, 848, 856, 862, 908, 973
Top 5 Cities (2010 population)
Newark (277,140)
Jersey City (247,597)
Paterson (146,199)
Elizabeth (124,969)
Edison (99,967)
Government & Legislature
State Symbols
| | |
| --- | --- |
| State Animal | Horse |
| State Bird | Eastern goldfinch |
| State Bug | Honeybee |
| State Dance | Square dance |
| State Dinosaur | Hadrosaurus foulkii |
| State Fish | Brook trout |
| State Flower | Purple violet |
| State Fruit | Blueberry |
| State Motto | Liberty and prosperity |
| State Nickname | Garden State |
| State Shell | Knobbed whelk |
| State Ship | The A. J. Meerwald |
| State Tree | Red oak |
Sports Teams
Popular Tourist Attractions
Famous People Born In New Jersey
Nobel Prize Winners
Nicholas Murray Butler (Peace, 1931)
Dickinson W. Richards (Physiology or Medicine, 1956)
Joshua Lederberg (Physiology or Medicine, 1958)
Frederick Reines (Physics, 1995)
A. Michael Spence (Economic Sciences, 2001)
United States Presidents
Grover Cleveland (22nd and 24th President)
Pro Football Hall Of Fame Members
Alex Wojciechowicz (Center, Linebacker. Inducted in 1968)
Jim Ringo (Center. Inducted in 1981)
Franco Harris (Running Back. Inducted in 1990)
Lou Creekmur (Offensive Tackle, Offensive Guard. Inducted in 1996)
Elvin Bethea (Defensive End. Inducted in 2003)
Ed Sabol (Founder of NFL Films. Inducted in 2011)
Bill Parcells (Coach. Inducted in 2013)
Dave Robinson (Linebacker. Inducted in 2013)
Baseball Hall Of Fame Players
Billy Hamilton (Center Fielder. Inducted in 1961)
Goose Goslin (Left Fielder. Inducted in 1968)
Joe Medwick (Left Fielder. Inducted in 1968)
Naismith Memorial Basketball Hall Of Fame Players
Don Barksdale (Center-Forward. Inducted in 1981)
Rick Barry (Forward. Inducted in 1987)
Carol Blazejowski (Guard. Inducted in 1994)
Bennie Borgmann (Guard. Inducted in 1961)
Anne Donovan (Center. Inducted in 1995)
Tom Heinsohn (Center-Forward. Inducted in 1986)
Shaquille O'Neal (Center. Inducted in 2016)
Dennis Rodman (Forward. Inducted in 2011)
John Roosma (Guard. Inducted in 1961)
Famous Actors And Actresses
Michael Douglas
Bebe Neuwirth
Paul Rudd
Kevin Spacey
Meryl Streep
Famous Singers
Lauryn Hill
Whitney Houston
Jon Bon Jovi
Paul Simon
Frank Sinatra
Nancy Sinatra
Bruce Springsteen
Dionne Warwick
Famous People In Other Fields
New Jersey Fun Facts
New Jersey was named after the Isle of Jersey, an island in the English Channel.
The first officially recorded, organized baseball game was played in Hoboken, New Jersey, on June 19, 1846.
New Jersey is one of only two states where self-service filling of gasoline is prohibited. The other is Oregon.
The properties in the United States version of the board game Monopoly are named after the streets of Atlantic City, New Jersey.
New Jersey has the most diners in the world and is often referred to as the "Diner Capital of the World."
The Union Watersphere, also known as the Union Water Tower, is the tallest water tower in the world. It is located in Union, New Jersey.
The world's largest statue of a tooth (15 feet tall) is located in Trenton, New Jersey.
Morristown National Historical Park, established in March, 1933, was the first national historic park in the United States.
The first steam-powered ferry service in the United States began operation on October 11, 1811. The service was between Hoboken, New Jersey and Manhattan.
The first balloon flight in America was made by Jean Pierre Blanchard. On January 9,1793, he landed a balloon at Deptford, New Jersey.
On January 19, 1883, the first standardized incandescent electric lighting system with overhead wires began service in Roselle, New Jersey.
This page was last updated on October 01, 2017.
Return to List of 50 States
---